Megan Houston, M.P.H.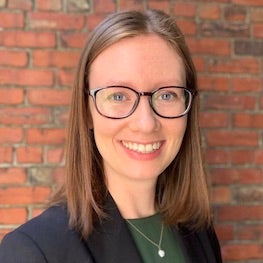 Megan Houston is a Research Fellow at the Center on Health Insurance Reforms (CHIR) in Georgetown's Health Policy Institute. Her research focuses on state efforts at health care cost containment, and monitoring insurance reforms at the state and federal level.
Before joining CHIR, she worked as a research analyst in the Massachusetts state legislature's Joint Committee on Health Care Financing where she conducted policy research, drafted and analyzed legislation, and worked on bills related to community hospital financing and the cost of prescription drugs. Before completing graduate school, Megan worked for the Massachusetts Medical Society and the Health Federation of Philadelphia. She's also a former AmeriCorps member, where she served as an insurance specialist, helping consumers with eligibility and enrollment in Medicaid, the Marketplace, and other coverage options.
Megan earned her Master of Public Health degree from Boston University's School of Public Health, with a certificate in Health Policy and Law and holds a BA in Psychology from the University of San Francisco.