Hanan Rakine, M.P.H.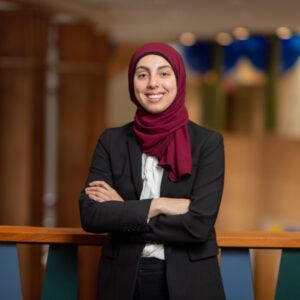 Hanan Rakine is a Research Fellow at the Center on Health Insurance Reforms (CHIR) at Georgetown University's McCourt School of Public Policy. At CHIR, her research areas include emerging issues in health insurance and insurance markets along with facility fee charges and coverage in the commercial market.

Prior to joining CHIR, Hanan worked at the Bipartisan Policy Center where she analyzed national health care policies and best practices relating to Medicare and Medicaid Buy-In for Workers with Disabilities to reduce preventable health care costs. Hanan also served as the Health Care for All Chair at American Medical Student Association (AMSA). During her time at AMSA, she developed and organized weekly programming to educate students about the Affordable Care Act and single-payer health care. Hanan also frequently met with members of Congress to discuss recommendations for equitable and accessible health care legislation.
Hanan received a B.S. in Public Health from Wayne State University and a Masters of Public Health in Health Management and Policy from the University of Michigan.